Lionel Messi kids clothes
Coming soon: The launch of our Messi children's clothing collection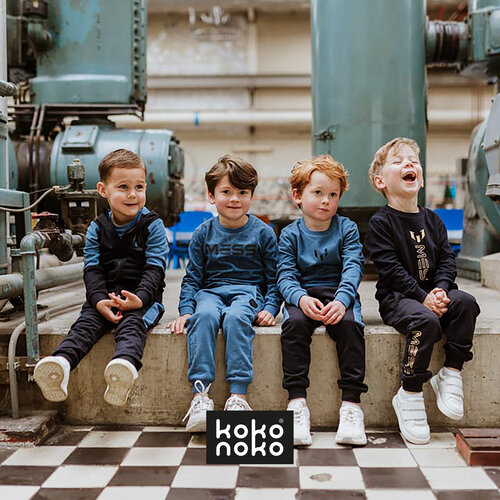 Lionel Messi kids clothes
Coming soon: The launch of our Messi clothing collection
At the end of this summer, something very special will happen that we want to share with you. We will then launch our new clothing collection inspired by the world famous footballer Lionel Messi.

Would you like to be notified when we go live? Sign up for our newsletter via the form in our footer!
Messi clothing collection at Koko Noko
Messi, De Vlo, the GOAT, and since 2022 (together with his Argentinian team) world champion. Who does not know him: Lionel Messi.
We make baby, boy and girl clothes that resemble what their heroes wear on the pitch.
Clothes for children, and for moms and dads, who, just like us, are impressed by Lionel Messi's career. For boys and girls who dream of being able to play football as well as they grow up and for parents who love football or just love Messi. Our iconic collection contains comfortable clothes that will make your child feel like a superstar every day!
Messi, to your little champion!
Large selection of sizes and designs
The children's clothing collection from Messi, inspired by the Argentinian footballer Lionel Messi, is a beautiful line of clothing for children that fans of football and fashion will appreciate. The collection contains a range of stylish and comfortable garments, including T-shirts, sweaters, shorts and other loungewear.
The Messi collection is available in different sizes, so that children and babies of all ages can enjoy the stylish and comfortable clothing. The clothing is made of high-quality materials and is specially designed to support children's freedom of movement, so that they can move freely while playing or exercising.
Messi boys clothes
Our iconic boys' collection features comfortable boys' clothes that will make your little man feel like a superstar every day!
A game of football? Your little man will shine in his own Messi jogging suit! In addition to jogging suits, you can find beautiful hoodies, cardigans, jogging pants, long sleeves, sweaters and t-shirts in our range. The items can be worn separately but can also be perfectly combined with each other. Items according to the latest trends, in beautiful colors and with iconic prints. Made of a fine cotton, so great while playing.
Also take a look at our pyjamas, in which your little one can dream about his own professional career!
The boys' collection is available in sizes 50/56 to 110/116.
Messi girls clothes
Do you have a sporty daughter at home? Does she like football or is she a fan of Messi? Inspired by football god Lionel Messi, this collection has everything you need to keep your girl looking stylish and comfortable while she plays.
The collection consists of a t-shirt, sweaters, sweatpants, cardigan and nice pajamas. Made of a fine cotton, so great to wear and to play in.
Shop a cool Messi outfit for your daughter quickly!
The girls' collection is available in sizes 50/56 to 110/116.